Year after year, I never tire of the Coconut Grove Arts Festival.  This year, the St. Stephen's Art Festival, right next door, had quite a few new and repeat artists that this visitor enjoyed.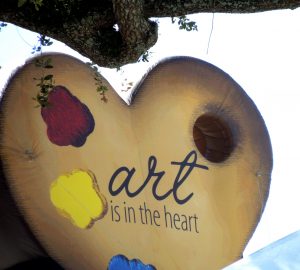 One of my favorites were the magnificent wood vessels by Tim Niewiadomski, Studio by Ski – Shades of Wood, from Akron Ohiio.  This piece, in particular,  is composed of  African Gabone Ebony, maple, cherry, Asian Macasser Ebony, Central American Granadillo and insets of Wyoming Jade. Fabulous craftmanship.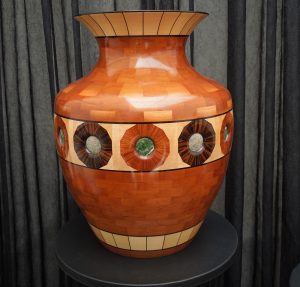 Sparkling in the morning sun was a 3D stained glass sculpture by Dan Neil Barnes Studios, Lexington, Kentucky.  Glass art has always captured my eye.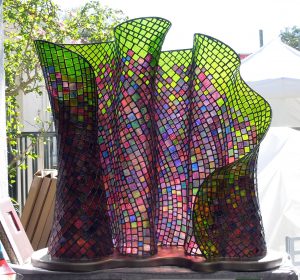 There were several artisan jewelry newcomers to this festival that were drawing big crowds.  On the fun side, Suzanna DiMarco's comtemporary jewelry designs stood out.  Her earings with earings were great –  the little heads with earings rotate so that you always see the face. Clever and well done.
Einat Agmon from Buffalo, NY, specializes in unique, organic designs made with precious metals and gemstones.
On the pricier side, Plique-a-Jour Enamels Jewelry and Fine Miniatures,  by local artist Diane Echnoz Almayda, were delicately beautiful.
Always a crowd pleaser, the Spiral Dyes guy was there.  Ken and Teresa Ramsay, from Hot Springs, NC, have new vibrant handmade artistic dye and designs on tee shirts, skirts and dresses.  Retro is big this year and these prints are king.
Drunken Bottle also gave me goosebumps of yore.  Recycled glass bottles turned into hanging ornaments and wind chimes reminded me of the days when I made drinking glasses from wine bottles with a glass cutter and polisher set.