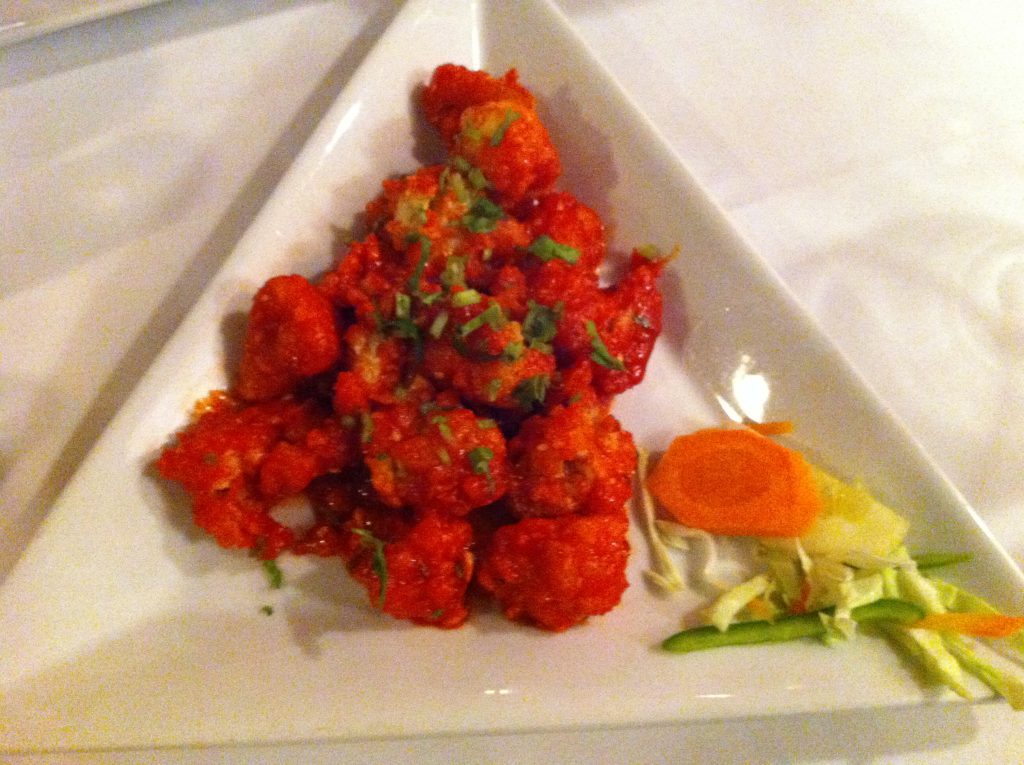 Ayesha is one of our favorite neighborhood restaurants in Palmetto Bay for great food and superb service.  Our waiter not only knows us, but remembers what we have ordered in the past – and I mean everything.  He makes suggestions on dishes we may like to try instead of our standard choices.  And, his recommendations are excellent and appreciated.
Last night we had some of our regulars and a few surprises.  As with most Indian restaurants, Papadum with Tomato Chutney is served complimentary. Their version is little spicy and a little sweet. For an appetizer, we had the Lasooni Gobi, crispy cauliflower florets tossed in a tomato and garlic sauce. This dish is phenomenal and one of my favorites.  It can also be ordered with Paneer (Indian cheese), but I favor the cauliflower.  We went easy on the breads tonight, only ordering the Garlic Naan.
Entrees were as follows:  Tandoori Shrimp – shrimp marinated in yogurt, garlic and spices and then cooked in a clay oven, Chicken Tikka Masala – boneless chicken cooked with cream, fresh tomato sauce, onion, green pepper and Indian spices and Lamb Rogan Josh – lamb cooked with ginger, garlic, yogurt, onion, tomato and Indian spices.  Ayesha's version of the chicken and lamb are classically delicious and ones that we frequently order.
The surprise entree of the night was the Ayesha Chicken Mixed Grill – chicken tikka and tandoori chicken served with mint chutney.  Never a mint sauce lover, I reluctantly tasted their mint chutney and was delightfully impressed with its fresh, spicy and slightly acidic flavor.  It was not sweet at all, as I anticipated, nor was it particularly minty; the dominant flavor was actually cilantro.  My tandoori shrimp found there way into that amazing mint chutney from that point on. Dinner was served with a lovely Basmati Rice and the mint chutney was great on that too.
Contemporary Bollywood movies play on a TV in one corner of the restaurant so sit near if you enjoy (and I do) and far if you do not.  Needless to say, after dining here numerous times, I can attest to Ayesha's consistently high quality food and friendly, attentive and personalized service.
They have four restaurants but their web site only refers to the Key Biscayne location.  Ayesha in Palmetto Bay is located at 14151 S. Dixie Hwy.  786-732-4480
| | |
| --- | --- |
| Food | Very Good |
| Ambiance | Good |
| Service | Excellent  |
| Price | Moderate |
If  you would like to read some of my other restaurant reviews, you can check them all out within my RESTAURANT category.  If you have ever been to this restaurant, please share with us your own experience by leaving a comment below.  I would love to know what you thought about it.