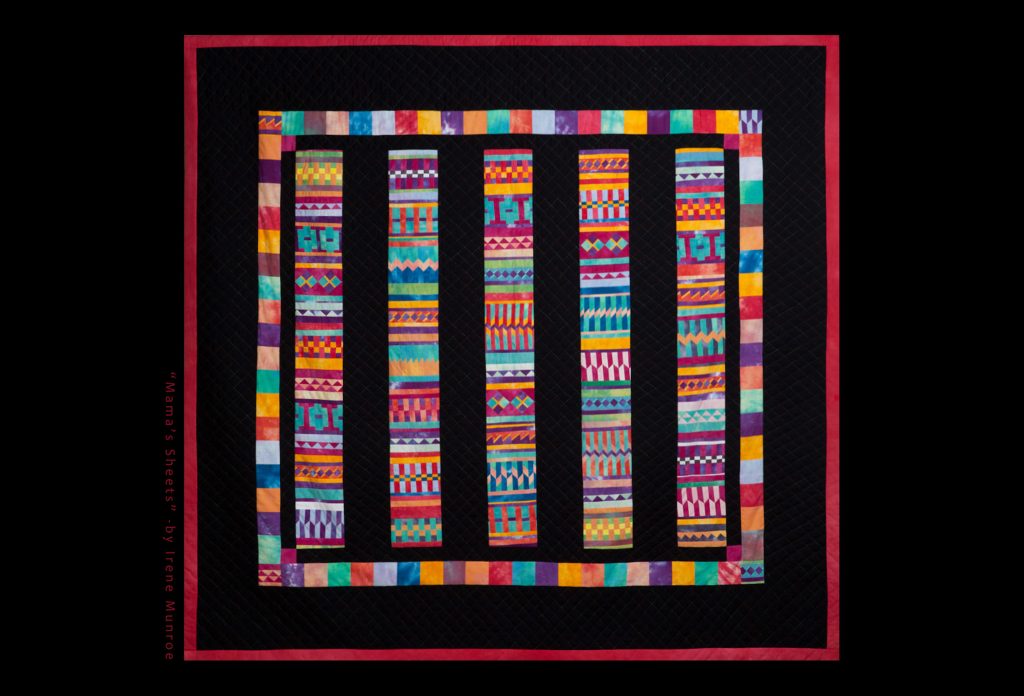 Ralph Middleton Monroe, one of the founders of Coconut Grove and the builder of The Barnacle, had a daughter-in-law who was a talented frugal seamstress.  (Nowadays we would refer to her as a forward thinking recycler.)
Mary Poore Monroe never threw anything away. Whenever the sheets and pillowcases tore, she finely stitched them back to life, turning them into smaller versions of themselves.
When The Barnacle became a state park in 1973, Mary moved out and took the sheets with her. Years later, sons Bill and Charlie (RM Monroe's grandsons) noticed the sheets stored in a cardboard box and were about to toss them.  They were stopped by Irene Monroe, wife of Bill.  She believe that Mama's sheets deserved to live on.
As a fiber artist, with a most creative imagination, Irene proceeded to section the sheets and dye them in vibrant colors, creating a patchwork quilt of Seminole Indian inspired design. Although the quilt is not for sale, it will be displayed at Barnacle Visions along with works by noted Grove artists Lynn Fecteau, Irene Munroe, Lisa Remeney & Eric Speyder.  All the works displayed are evocative of the history of  The Barnacle and Biscayne Bay and the unique character of Coconut Grove.
Opening Champagne Reception:  Meet the Artists                           Friday, March 6 from 7 – 10 pm
Art Show:   Saturday, March 7  from 1 – 10 pm and Sunday, March 8 from 1 – 5 pm Where:    Boswell Mourot Fine Art Gallery. 3162 Commodore Plaza in Coconut Grove, FL 33133 Free Admission  
I am a board member of The Barnacle Society, a non-profit organization that supports preservation of The Barnacle Historic State Park. We are raising funds for a much needed fire suppression system to protect the historic building at The Park. A portion of the proceeds benefit The Barnacle Society.
I am also a real estate specialist in Coconut Grove, Pinecrest and Coral Gables.  If you would like to schedule a buyer, seller or investor meeting, please call or text me at 305-898-1852.  It would be my pleasure to speak with you about real estate or The Barnacle.