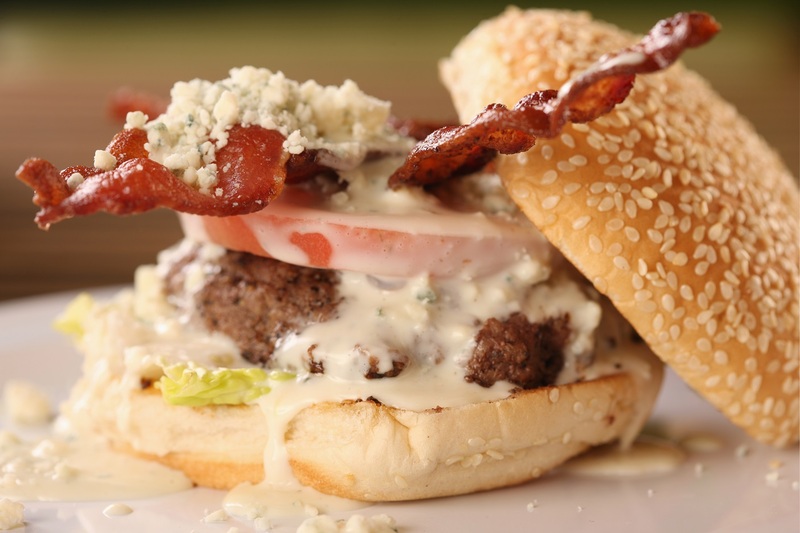 I checked out Bobby's Burger Palace, celebrity chef Bobby Flay's new hamburger restaurant in Dadeland Mall. To get right down to the grill – the burgers are terrific – moist and juicy, with quality grade beef and interesting toppings.  And the French fries are crispy and plentiful. On the right is the Bobby Blue Burger.  Yep – it's as good as it looks!
The Cuban Influence
There are two signature burgers.  One is the Crunchburger, a nod to the Cuban inclusion of potato chips on all things between bread.  The other  is the Cuban sandwich-inspired Miami Burger pressed with ham, Swiss cheese, pickles, mustard and mayo.  It's like the medianoche without the pork.
The 75-seat restaurant is counter-style with al fresco dining on the outdoor patio.  Order at the register and a server brings the food to the table when it's ready.  Bobby's offers a selection of five condiments on the counter:  BBQ Sauce, Chipotle Ketchup, Burger Sauce, Jalapeno Sauce and Fry Sauce.
The burgers are unbelievably reasonable at $6.75 – $7.75.
Not yet available but soon to come – beer and wine offerings.
| | |
| --- | --- |
| Food | Excellent |
| Ambiance | Fiery Red Yellow & Green |
| Service | NA |
| Price | Inexpensive |
If you would like to read some of my other restaurant reviews, you can check them all out within my RESTAURANT category.  If you have ever been to this restaurant, please share with us your own experience by leaving a comment below.  I would love to know what you thought about it.