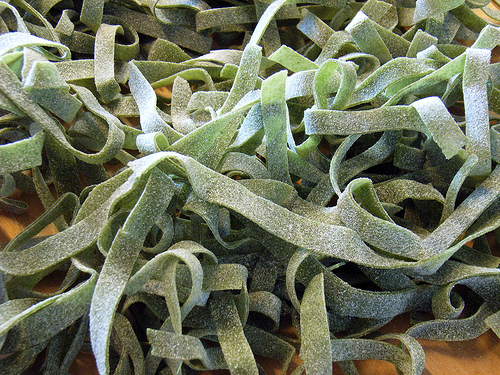 The newest Italian eatery on Miracle Mile in Coral Gables was jam packed Saturday night and super noisy but we were able to shout through the hustle bustle and enjoy the evening. We were served Italian bread with nothing of interest to dip or smear.  It took quite a few requests to receive the olive oil.  Our group started with the black tiger shrimp in a spicy wine garlic tomato sauce and the crispy deep fried zucchini and artichokes with lemon lime aioli.  Although the roasted red pepper aioli was missing, both antipastos were well prepared and within expectation.  We followed with salads of organic mixed greens with balsamic vinegar and extra-virgin olive oil as well as the arugula, radicchio, endive, portobello mushrooms and shaved parmigiano.  Both salads were perfectly fresh but the arugula needed the missing lemon from the dressing.
Cibo has an enormous variety of pastas and they are pleasing, cooked al dente and flavorful.  The fusilli with chicken and mushrooms in a light cream sauce and the orecchiette with rapini, spicy Italian sausage, fontina, parmiagiano, garlic and olive oil were both good but lacking in sauce.  We attributed this to the length of time the pasta was sitting under a heat lamp in the kitchen.  However, the most outstanding pasta was the pappardelle with slow cooked lamb ragu and pecorini.  It was heavenly robust and I highly recommend it.
As you may have already concluded, the service was abysmal.  Could not get another bottle of the light Cotes du Rhone we enjoyed, could  not get a water glass refilled, could not get olive oil, lemon, red pepper aioli or salt.  Well,  I'd give this chain from the Liberty Group another try and explore the extensive menu further but, if the service last night was any indication, I would not give it a third try.
| | |
| --- | --- |
| Food | Good |
| Ambiance | Great but Noisy |
| Service | Poor |
| Price | Reasonable |
If you would like to read some of my other restaurant reviews, you can check them all out within my RESTAURANT category.  If you have ever been to this restaurant, please share with us your own experience by leaving a comment below.  I would love to know what you thought about it.