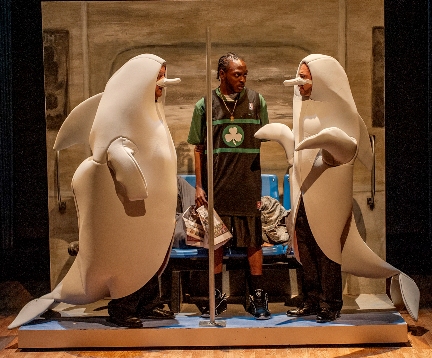 City Theater's 18th Edition of Summer Shorts is represented this year by eleven quickie plays, running under ten minutes, that mostly amuse.  For those of you who don't know about this wonderful festival, it is held every summer, through the month of June, at the Adrienne Arsht Center.   As Christine Dolen, theater critic of the Miami Herald, wrote in today's review, "If you're watching something that isn't working for you, just wait a few minutes and you'll be plopped into an entirely different world."  So true it is.
The absolute best of the night was The Student, written by Matt Hoverman, directed by Antonio Amadeo and superbly acted by Todd Allen Durkin and Ken Clement.  In one of the few dramas of the night, Clement plays Hugh, a burned out professor,  unable to get published, who is meeting with his most peculiar student Burt to discuss a story Burt wrote.  Another favorite was Please Report Any Suspicious Activity, written by Rick Park, directed by Antonio Amadeo and performed by Ken Clement and Rayner Garranchan.  In this short, two dolphins enter a subway and delve into a lovers quarrel in front of a passenger, whose speechless performance elevates the play to tidal wave heights.
The six ensemble actors each perform in five or six shorts, tackling an array of different characters.   Most impressive was Todd Allen Durkin (Doug Feehan on Starz Network's Original Series "Magic City").  I enjoyed every character he portrayed, but especially loved him as the quirky and sensitive student Burt.
How the Plays are Selected
The Board of Directors spends the entire year reviewing some 900 entries.  Yes, that is 900 plays that they read, ultimately selecting  just eleven shorts to include in the final production.  This just may be more hopefuls than the number of contestants lining up for the American Idol auditions.
To read Christine Dolen's spot on review, click this link.  For tickets to Summer Shorts click here.
If you go, let me know what you think of  Summer Shorts by writing me at wellins.d@ewm.com or leave a reply below.