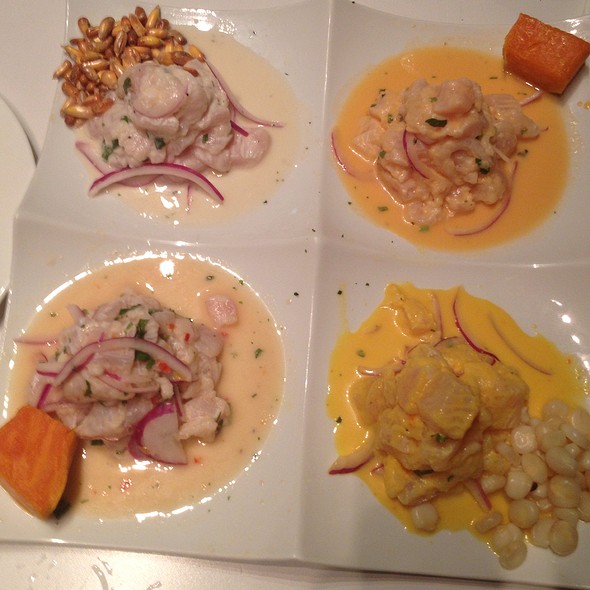 Cvi.Che 105 is a stellar recommendation from clients who lived in Peru for many years and raved about the authentic Pisco Sours and ceviche. This downtown Peruvian hot spot has splendid food, great signature cocktails and the best service I have had in a trendy casual restaurant in a long time.
I'm a big fan of the mixologist who created their PISCO 100 cocktails. Friends had the Pisco Sour, the classic national drink of Peru, made with fresh lime juice, simple syrup, pasteurized egg whites and angostura bitters. It lived up to its hype. I had the Cevichini 105, an green aperitif of ginger, cilantro, celery, lime and sugar. What an amazing blend of flavors with a surprise kick. The white sangria , laden with fruit, is refreshingly light and pleasant as well.
Cancha, warmed Puruvian corn nuts made from maiz chulpe, a variety of corn that pops without puffing up, is served complementary at every table.
Our group went ceviche crazy sharing a shrimp ceviche and a quad of four different seafood ceviche none of which were on the menu but recommended by our waiter Alex. There was no agreement on a favorite, each of us preferring a different one. I am interpolating from the menu based on the flavors and ingredients of each ceviche.
The Shrimp Ceviche is prepared with large whole shrimp, marinated in fresh lime juice and served with onion and rocoto pepper.
Ceviche Pucusana is very similar to the shrimp ceviche but served with fresh fish, shrimp and squid in a classic marinade of fresh lime juice mixed with onions, cilantro and rocoto pepper. Choclo, a variety of fresh Puruvian corn, is served on the side.
Tiradito Inti Raymi is prepared with fresh fish, shrimp and squid marinated in lime and onion, bathed in Puruvian yellow pepper cream and served with cancha on the side.
Trilogia De Tiraditos is the most peppery ceviche served with assorted seafood and onion and enveloped in a yellow Peruvian pepper sauce with rocoto serano cream, giving this one a little bite. A sweet potato accompanies this variety to offset its spice.
The forth one is a mystery. My best guess is the Ceviche Orgia De Mariscos, assorted seafood and onion swimming in Tiger Milk. It was a milder ceviche with a slightly sweeter tone and served with a sweet potato nibble.
Alex recommended another dish (not on the menu) that was incredibly flavorful with succulent tender beef. It seems similar to the menu item Tacu Lomo, sautéed loin and shrimp with onion, tomato, mushroom, Peruvian spices, Pisco in an Asian sauce, served with large slices of potatoes. Portions on all dishes are generous.
We topped off dinner with a trio of desserts. Seems everything is in 3's or 4's. I highly recommend the Passion Fruit Mousse. The Chirimoya Mousse had a very sweet carmel flavor and the Lucuma Mousse, made from a Puruvian fruit, was mild and somewhat lacking in distict flavor when compared to the other two.
The crowd is young and raucous, the room is echo chamber minimalistic and they do not take reservations because diners are more than happy to stand outside with a drink and wait. The service is friendly, sincere and super helpful. Valet Parking is $10.
I'm definatley going back.
| | |
| --- | --- |
| Food | Excellent |
| Ambiance | Loud |
| Service | Excellent |
| Price | Moderate |
If you would like to read some of my other restaurant reviews, you can check them all out within my RESTAURANT category. If you have ever been to this restaurant, please share with us your own experience by leaving a comment below. I would love to know what you thought about it.