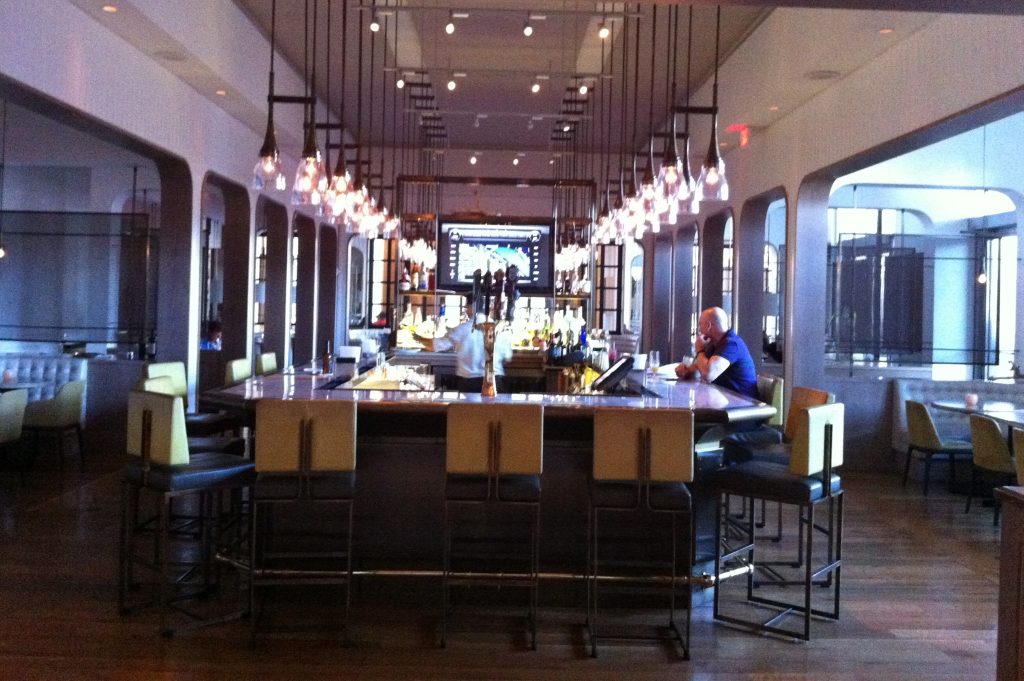 EDGE STEAK AND BAR, on the seventh floor lobby of the Four Seasons Hotel on Brickell, was a great way to close out the 2013 Miami Spice season.
The dining room and bar is modern and casually sophisticated. On the terrace, seating includes romantic lounge areas with firepits. Inside or out, the Edge has great atmosphere.
Setting the tone for the evening and pleasing me to no end was their complimentary salty, seasoned home made potato chips.  I wanted a basket all to myself.
Off the Spice Menu
We s-tartared it up with a sampling of the Edge's four signature tartares:  Beef Tenderloin with Corn Chipotle, Yellow Mustard Seed and Gherkins; Corvina with Baby Cucumber, Green Apple and Celery Leaf Yellow Pepper Sauce; Octopus with Baby Artichokes, Cilantro Charred Tomato Salsa and Saffron; and Ahi Tuna with Pickled Shallots and Watermelon Italian  Parsley.  The Octopus had, by far, the most interesting and unique flavors, but my favorite was the Corvina.  Tartares are making a culinary comeback from the late seventies – early eighties where beef tartare was a menu standard, not to mention served at all of our parties.
Spice Menu
Spice Menu starters included a deliciously refreshing Red Salad with Roasted Beets, Queso Fresco, Red Walnuts and Piquillo Pepper; Chicken and Truffle Croquetas with Carrot Puree and Parsley Salad; and Pork and Duck Terrine with Spicy Mustard, Preserved Peppers and Grilled Bread.
The waiter recommended a reasonably priced and balanced Iconoclast Cabernet Savignon from Napa Valley and he did not steer us wrong.
For mains our group enjoyed the Mahi Mahi with Grilled Eggplant Puree, Slow Cooked Heirloom Tomatoes and Olives;  Lamb Braised with Chipotle and Spices, Whole Grain Salad with Fragrant Herbs and Yogurt; and Green Gnocchi with Five Different Green Vegetables, Crunchy Breadcrumbs and Parmesan Cream.  The lamb was fall off the bone tender with outstanding robust flavor. The Gnocchi was the absolute best I have ever had.  It was truly the surprise of the evening with broccolini, asparagus and peas, perfectly cooked gnocchi, truly crunchy breadcrumbs and a light parmesan cream sauce that did not overwhelm or make you feel like you do after, say, a fettuccini alfredo.
Dessert was the only course that had one miss.  The Penaut Butter Mousse with Strawberry Gelee and Banana Financier was not to our liking.  The peanut butter mousse was pleasant but overpowering against a gelee that had little flavor and an unappealing texture and consistency.  The banana ice cream was quite good, however.   The Cherry Bomb with Pistachio Pound Cake and Vanilla Bean Ice Cream was the better of the two with good contrasting flavors of  sour cherry, sweet cake and ice cream.
Service was easy going, attentive and helpful.  What a pleasure to have a waiter who provided the perfect balance of efficient and pleasant service.
Check out their herb garden, that even includes a black pepper plant.  Got to think the food will be good when they grow their own pepper!
A Few Notables
Chef Aaron Brooks does something smart.  Steak portions are smaller and prices more reasonable.
Parking is pricey so be sure to get a validation card from the restaurant.  $28 vs $10
| | |
| --- | --- |
| Food | Excellent |
| Ambiance | Modern Cool |
| Service | Excellent |
| Price | Spice $33 plus extras |
If you would like to read some of my other restaurant reviews, you can check them all out within my RESTAURANT category.  If you have ever been to this restaurant, please share with us your own experience by leaving a comment below.  I would love to know what you thought about it.