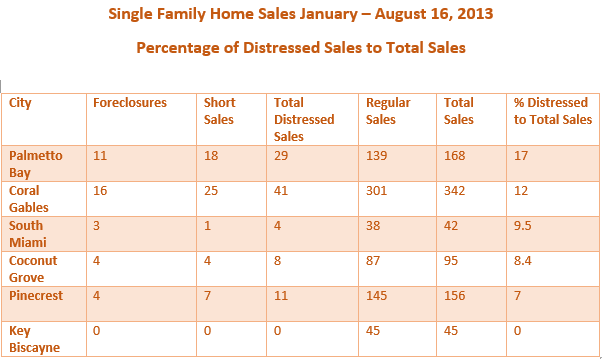 Distressed single family home sales as a percentage of total annual sales are down since the first quarter in homes along the Southeast Miami-Dade corridor.  Distressed sales include foreclosures and short sales.
I analyzed distressed sales in six cities: Pinecrest, Palmetto Bay, Coconut Grove, Coral Gables, South Miami and Key Biscayne.  In the chart  to the right you can see that Palmetto Bay had the highest percentage of distressed sales (17%) followed by Coral Gables (12%), South Miami (9.5%), Coconut Grove (8.4%), Pinecrest (7%) and Key Biscayne (0%).
Since the first quarter, Palmetto Bay, Pinecrest, Coral Gables and South Miami all have a lower percentage of distressed sales, while Coconut Grove has seen an  increase.  Key Biscayne remains unchanged with no distressed sales for the year.   Average distressed sales of all six cities for the first quarter was 12.5% of total sales. For the year, the average is down to 10.9%.
Click this link to see First Quarter Distressed Sales.
I am a luxury residential specialist and would be pleased to help you with the purchase or sale of a home.  If you would like to schedule a meeting, feel free to call me at 305-898-1852 or drop me a note at Wellins.D@ewm.com.