Spectacular, are they not?    The Royal Poinciana, with its red, vermillion, orange and yellow flowers and bright green fern-like foliage, spread their arms high and wide, shading us with the most splendid and famboyant canopy.
One of the most gorgeous trees in the world, the Royal Poincianna was named after Phillippe de Longvilliers de Poincy, the 17th century governor of Saint Christophe (Saint Kitts), although they originate from Madagascar and are naturalized in tropical and sub tropical regions worldwide.

Urban Forest Ecosystem Institute
Photos were taken in the Village of Pinecrest the early morning and evening of  June 6, 2014.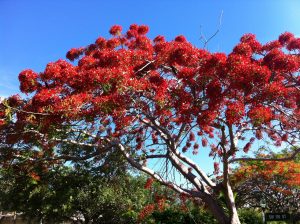 I am an estate specialist in Pinecrest, Coral Gables and Coconut Grove.  If you would like to schedule a buyer, seller or investor consultation, or would like a complementary analysis of your home, just text or call me at 305-898-1852 or send me a note at Wellins.D@ewm.com.