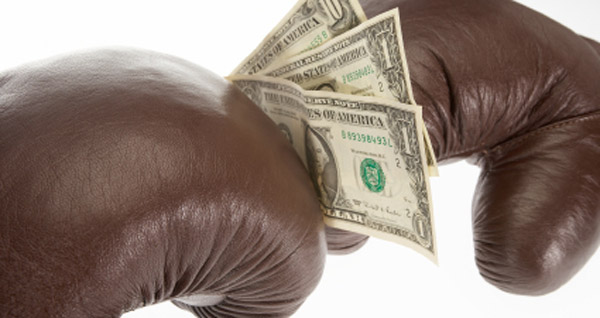 Summers v Yellen is the match-up of the year.  Who will land the knock out punch to claim victory as head of the Federal Rerserve, the most powerful economic job in the world? Of the front-runners, who will President Obama choose?
In this corner: Larry Summers, 58, (Harvard Ph.D.) the formidable, confident, aggressive and brilliant economist and former President of Harvard University.
As you  may recall, Mr. Summers was forced to step down as president of Harvard after a faux pas provoked a faculty vote of no confidence.  However, Summers has been a force to be reckoned with for a long time, serving as Bill Clinton's treasury secretary where he championed deregulation of wall street and later as chair of Obama's National Economic Council where he helped craft the stimulus package and the auto bailout. Some of his moves under Clinton, however,  are thought to be significant factors contributing to the 2008 financial crisis – objecting to the regulation of complex derivatives and allowing banks to act as investment and commercial banks and insurance companies.
In the other corner:  Janet Yellen , 66 (Yale Ph.D)  the highly respected economist and vice-chairman to current Fed chairman Ben Bernanke.
Ms. Yellen has been vital in developing the central bank's response to a weak recovery. She served on Bill Clinton's Circle of Economic Advisors in the late 1990s and served as Chairman of the Federal Reserve Bank of San Fransisco from 2004 to 2011.  Some say she lacks the seriousness necessary for the job.  I say this attitude reeks of of sexism.  No woman has ever served as Head of the Federal Reserve.  I say ride Sally Ride.
Ms Yellen believes that more can be done to help the unemployed given the Feds dual mandate of price stabilization and maximum employment and she supports keeping interest rates low.  She tends to fly under the radar unlike Mr. Summers, who is known to be outspoken and polarizing.  Mr. Summers is a supporter of boosting demand but seems more focused on fiscal issues than monetary policy.
We need a candidate who not only possesses sound economic and monetary principles but can anticipate and respond to surprises.    The The Economist reported that, in a recent survey, Yellen was the most accurate predictor of all Fed officials between 2009 – 2012.  I'm not sure what Mr. Summers monetary policies are or how effective he is at anticipating.  I am also not certain if we need a consensus maker or someone like Summers who is assertive, bold and capable of making unpopular policies.
In a CNNMoney survey, 38 out of 45 female economists showed a preference for Yellen as the next Fed Chairman. In a CNNMoney survey of mostly male economists, 10 out of 21 supported Yellen over Summer.  Two economists, Lawrence Yun, of The National Association of Realtors and Sue Stern, of Economic Analysis Associates, prefer Summer as the next chairman.  Some would like Bernanke to return for a third term and some recommended opening the field to other candidates.
What do you think?
Write me at Wellins.D@ewm.com or post a response below.