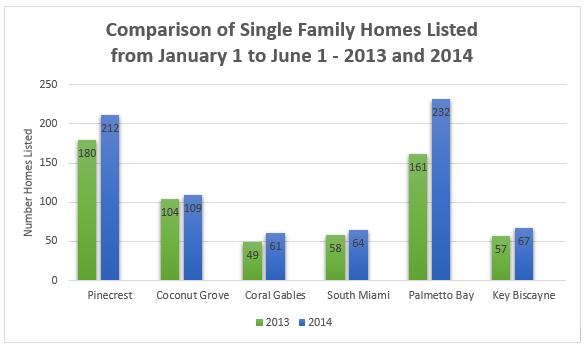 There are definitely more homes on the market this year over last.  Take a look at the graph to the right that compares single family homes for sale between Jan 1 and June 1 in 2013 and 2014.
Palmetto Bay has seen the greatest increase in homes for sale, up by 44%.  This is a super hot area to buy in right now.
South Coral Gables has had the second highest increase in inventory at 22% followed by The Village of Pinecrest and Key Biscayne at 18% and South Miami at 10%.  You will notice that the number of homes on the market in Coconut Grove is relatively stable with only a 5% increase over last year.
It's still a sellers market and a great time to sell a home in Miami.
I am an estate specialist in Pinecrest, Coral Gables and Coconut Grove.  If you would like to schedule a buyer, seller or investor consultation, please text or call me at 305-898-1852 or send me a note at Wellins.D@ewm.com.  It would be my pleasure to help you with your real estate transactions.