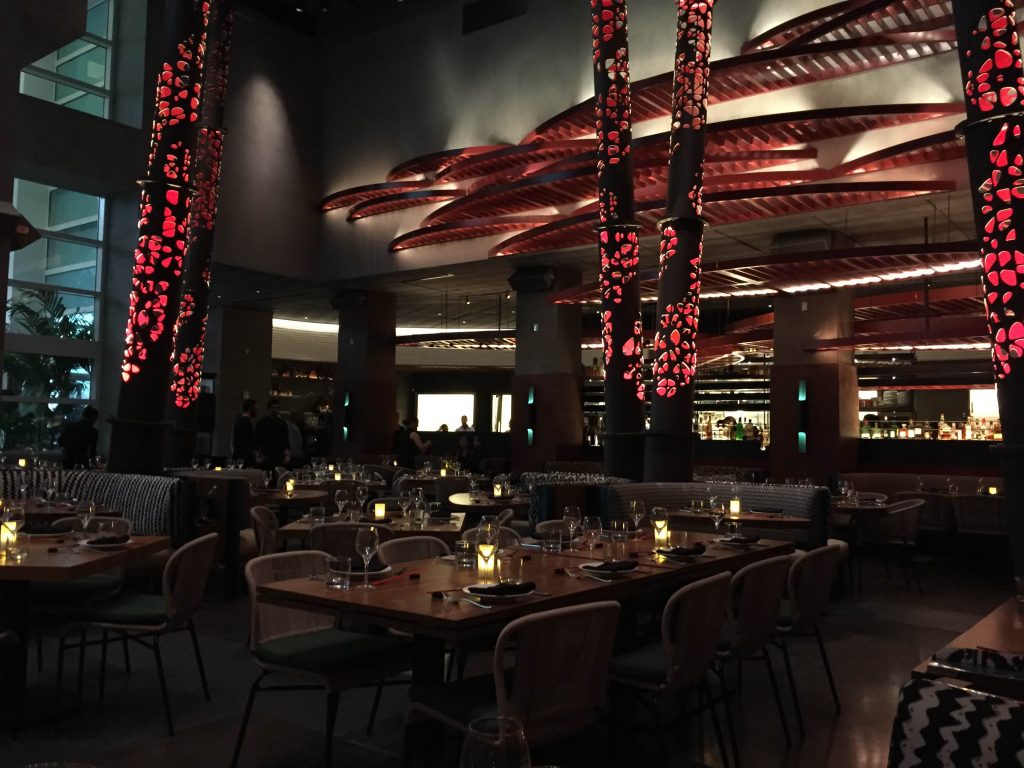 Thinking of heading down to Brickell for dinner?  Check out Komodo, the swanky new contemporary Southeast Asian restaurant that melds nightclub vibe with upscale cuisine.
Jeffrey Chodorow (of China Grill) and club entrepreneur David Grutman (LIV) joined forces to create this tri-level hot spot that serves up great signature cocktails at all three bars. The Cucumber Basil Martini was a winner.
Although the food was good, for me, this venue is all about the electric lounge atmosphere with club music, indoor-outdoor spaces and floating bird's nest pods.
Let's Talk Food
The menu offers an interesting array of superb salads, small and large plates, skewers, rolls, rice, pasta and grain dishes and fabulous sides.  Here's the run down on our sampling:
Lamb Spareribs with plumb and sesame – Three of the four ribs were unfortunately fatty. That one rib without the fat was delicious.
Lobster Dynamite with crispy quinoa and scallion –  Loved the lobster salad that topped a dry rice cake.
Dragon Fries: kabocha, shimeji, white sweet potato, garlic & ginger kewpie – This was a big hit. The mild white sweet potato, served with a creamy garlic dip, was terrific.
Angry Shrimp Dumplings with xo ponzu – The shrimp may be angry but they pleased me.
Crackling Calamari salad with red radish, lime and miso –  The crispy calamari were quite dry but the salad was very good.
Asian Greens including watermelon radish, pomegranate, sweet miso – My favorite dish of the night.  It was fresh, crisp and adorned with an absolutely spectacular dressing where you could sense the sweet, salty and tart.
Peking Duck served with cucumber, scallion, pancakes, hoisin – This is one of Komodo's signature dishes, witness the crispy ducks hanging in the window Hong Kong style as you enter.  It was very good but overpriced at $92.
Shaking Filet of Beef with pear tomato, shiso – The filet was tender, very tasty and moderately salty.
Chinese Broccoli Gratin – Another favorite of the group.  Just as it sounds, it was served with a lovely cheese sauce.
 Some tips on $
The greens, grains and pastas are moderately priced at $9-18.  Craft cocktails during happy hour are priced at $9 and double after that. Valet parking is $15.
| | |
| --- | --- |
| Food | Good |
| Ambiance | Club Chic |
| Service | Very good |
| Price | Expensive |
If you would like to read some of my other restaurant reviews, you can check them all out within my RESTAURANT category. If you have ever been to this restaurant, please share with us your own experience by leaving a comment below. I would love to know what you thought about it.