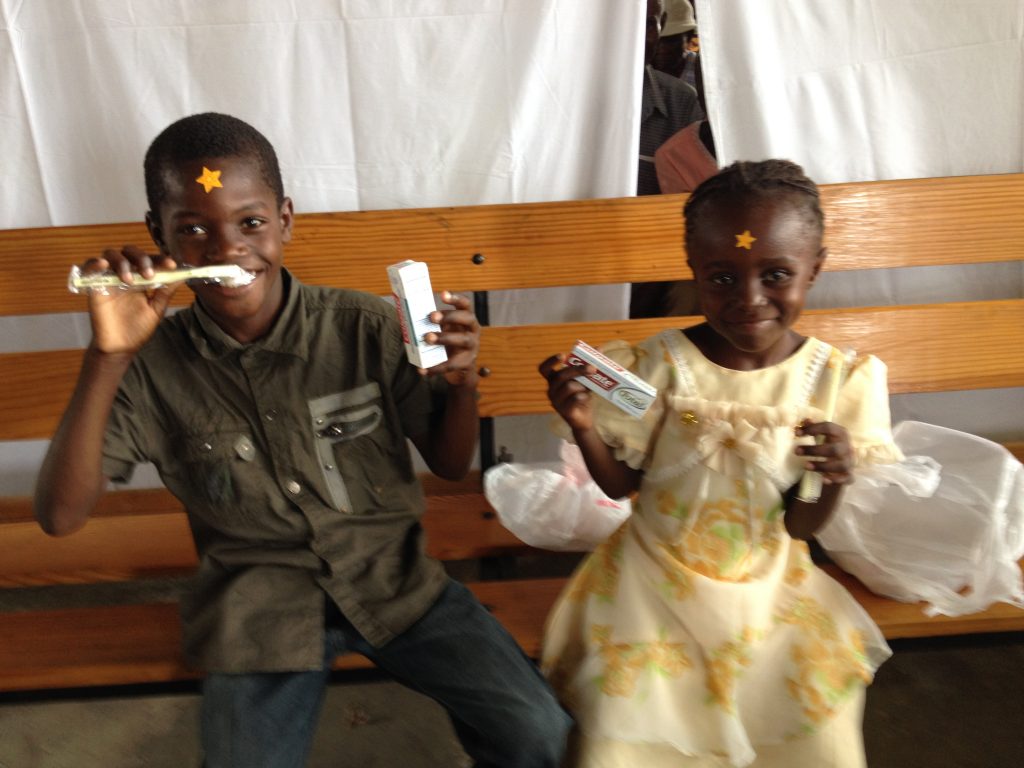 The Valdivia family just returned from Haiti, where they volunteered for the past two summers at a dental clinic sponsored by Hands Together of the Palm Beaches (HTPB).
HTPB helps the Haitian people both locally and in Haiti through its volunteer and assistance programs.  They believe in teaching the people of Haiti skills that empower them to be self-sufficient by providing opportunities for work, education, personal advancement, health care, clean water and adequate food.
As you can see by the pictures, the Haitian dental clinic where the Valdivias helped out, is a makeshift room with a flat bed, a fan and a hand-held light.  With limited equipment and supplies to treat all the dental needs of the Haitian community, most patients are undergoing extractions rather than routine, standard of care dental treatments that can save teeth.
HTPB is also raising money to help rebuild the Catholic Grade School in Jeandenis, Haiti.  The students are bunched together in a decrepit and severely overcrowded room with no electricity, minimal light and ventilation and no running water, and they have no place to eat lunch as the school yard is often surrounded by standing water from the heavy rains.
They have raised $140,000 but must reach $285,000 to build a two-story school with larger classrooms, modern bathrooms, electricity, a computer lab and a dry school yard.
FYI:  HTPB has been selected two years in a row to be one of only 51 extraordinary non-profits to be featured in A Directory for Charitable Giving,  based on sustainability, financial transparency, impact, accomplishments and uniqueness.
Please consider helping.  Click this link for more information or to donate to Hands Together of the Palm Beaches.
Thank you to Jenny, Mary Kate and Kelly Valdivia for your kindness, humanity, and willingness to eat peanut butter sandwiches for the duration of your trips.
Thank you to South Miami Dental Associates for graciously providing  the toothbrushes and toothpaste for the Valdivia family to dispense to the patients at the clinic.
I am an estate specialist in  Pinecrest, Coral Gables and Coconut Grove.  If you would like to schedule a buyer, seller or investor consultation, or would like to receive a complementary market analysis of your home, kindly call or text me at 305-898-1852 or drop me a note at Wellins.D@ewm.com.