Students from Miami Palmetto High School are displaying their solar cart today at Pinecrest Garden's Earth Day Celebration.
Pam Shlachtman, science department chairperson, explained that the solar cart was built about two years ago to demonstrate how solar panels can produce electricity.
The first device it powered was a Sony PlayStation but they have also used it to power a boom box and a fan.  The 60 watt panel charges a battery that is hooked to an invertor so that it can convert the DC power to AC  power.
The students in this photo are making paper beads as a project for the Bezos Foundation Water Challenge.
The students lacquer the beads and then ship them to the Bezos Foundation where all beads are matched with funding for 41 water projects that serve schools and communities in Tanzania.
Just 20 beads provides clean water for one person in Tanzania.  The students thus far have made over 1800 beads providing water for 80 people.
CONSERVE, PRESERVE and PROTECT our NATURAL RESOURCES!
Say hello to my fabulous vizsla, Miss Chili Pepper, who is enjoying Earth Day at Pinecrest Gardens.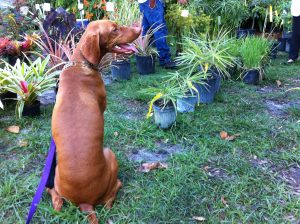 I am an estate specialist in the Village of Pinecrest.  If you would like to schedule a buyer, seller or investor consultation, or would like a complementary analysis of your home, feel free to call me directly at 305-898-1852 or send me a note at Wellins.D@ewm.com.