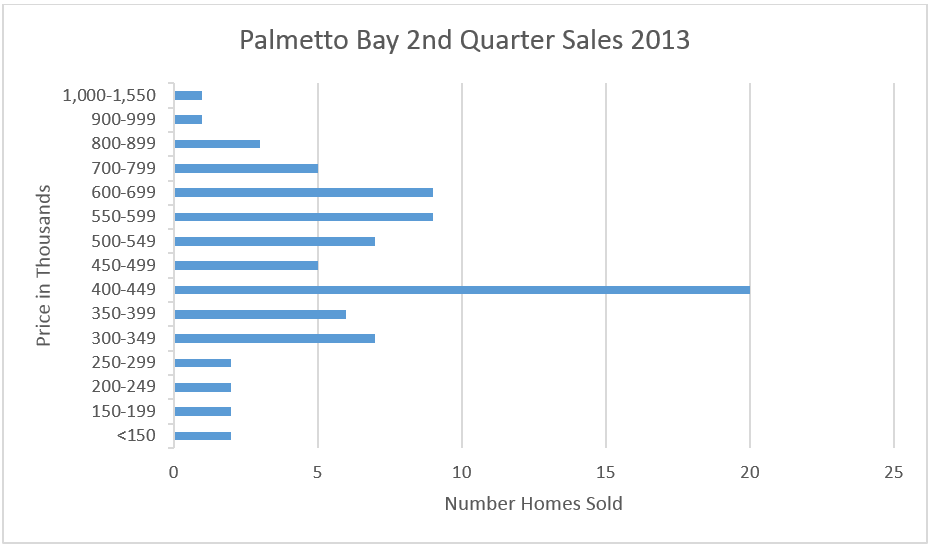 Palmetto Bay is selling like hot cakes.  Eighty residential homes closed between April 1 and June 30, 2013 compared to 55 homes sold in the first quarter. That's a 31 % increase.  Check out the graph to see the price breakdown.  The majority of homes sold between $400,000 – 449,000.
The lowest sale was a 2 bedroom, 2 bath house with 884 square feet of living space that sold for $70,000 or $79/sq ft..  The most expensive sale was a 6 bedroom, 6 bath, 6,714 square foot home in the exclusive Paradise Point waterfront community that sold for $1,550,000 or $231/sq ft.   The average sale in Palmetto Bay for the second quarter was a 4 bedroom, 2.5 bath house with 2,968 square feet of living space that sold for an average of  $491,724 or $166/sq ft.
This is a terrific family neighborhood with great schools, parks and homes at affordable prices.  I wouldn't wait to buy if you are considering it.  Prices are on the rise.
If you would like to schedule a buyer or selling meeting, feel free to call me at 305-898-1852 or send me a note at Wellins.D@ewm.com