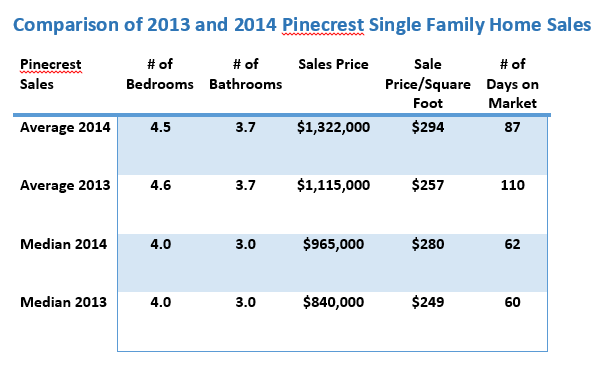 I've just taken an early look at the 2014 average and median sales of single family homes in the Village of Pinecrest and compared the numbers to last year. To date, 217 homes have sold this year, while at the same time last year,  230 homes closed.
In the chart you will see that the number of bedrooms and bathrooms are stable.  However, the average price of homes has increased over last year by $207,000 or 15% and the median price by $125,000 or 13%.
The average and median sales price per square foot is also up 13% and 11% respectively.  Homes sold faster this year too, on the market an average of 23 days less.
I will have a comprehensive analysis of 2014 Pinecrest sales toward the end of January when all the numbers have been reported and I have had a chance to break it down.
Great year in The Village!
I am an estate specialist in the Village of Pinecrest.  If you would like to schedule a buyer, seller or investor meeting, kindly call or text me @ 305-898-1852 or Wellins.D@ewm.com.
View  Listings in the Village of Pinecrest
Sorry we are experiencing system issues. Please try again.