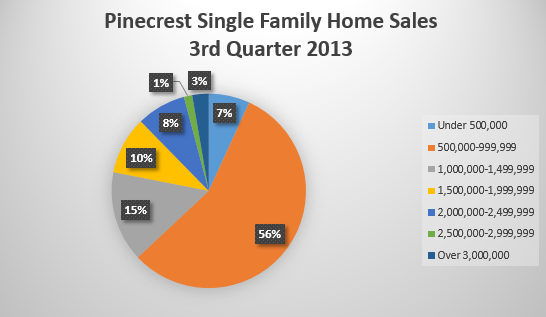 In the Village of Pinecrest, 72 single family homes sold in the third quarter of the year (July 1 – September 30) with a total sales volume of $77,819,500 .  Of these, 46 homes were under $1,000,000 and 26 homes were over $1,000,000.
The pie chart depicts sales in increments of $500,000. Fifty six percent of homes sold between $500,000 and $999,999, followed by 15 percent of homes sold between $1,000,000 and 1,499,999 and 12 percent between $1,500,000 and 1,999,999. The hottest price ranges for the 3rd quarter, $600,000-699,999 and $800,000-899,999 , each realized 13 sales.
The High
In the luxury market, the most expensive estate sold for $3,650,000 or $385 per square foot.
The Low
The least expensive home closed at $399,000 or $116 per square foot.
The Averages
The average Pinecrest residence sold for $1,080,826 or $259 per square foot.  Homes sold at an average of 95% of sale price to list price and were on the market an average of 105 days.
The Distressed
It's hardly distressing – only one short sale and one foreclosure sold during the third quarter.
I am a Pinecrest residential luxury specialist.  If you would like to schedule a buyer or seller meeting, feel free to call me directly at 305-898-1852 or drop me a note at Wellins.D@ewm.com.