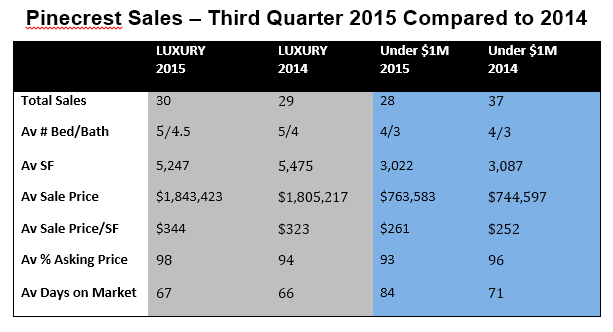 Single family home sales are steady and stable in the Village of Pinecrest.  The chart compares the third quarter of this year to third quarter sales in 2014 and there are a few surprises.
The average luxury home sale price is up a mere 2% as is sales under a million at 2.5%.  The average sale price per square foot is up 6% in the lux market whereas home sales under a million have seen only a 3% increase.
One surprising stat that has come out of Q3 sales is how close luxury homes are selling to their asking price – 98%.  This is crazy fantastic for sellers.  It means that homes are listed at the right price and buyers are stepping up and paying almost full value.
The other surprising stat is the number of days homes over $1M have been on the market. Typically, luxury homes take longer to sell than homes under $1M, approaching six months on the average.  In the Q3 of this year and 2014, the average high end home has sold in just two months. Inventory is a major factor.  Supply continues to be below a healthy market average of 6-9 months.
What does all this mean for home owners thinking about selling?  SELL!
Check out my blog on the Q3 Hot Markets in the Village of Pinecrest.
I'm an estate specialist in The Village of Pinecrest and your best source for news and information on Pinecrest real estate.  If you wish to schedule a buyer, seller or investor meeting, kindly call, text or email me.  305-898-1852  Wellins.D@ewm.com