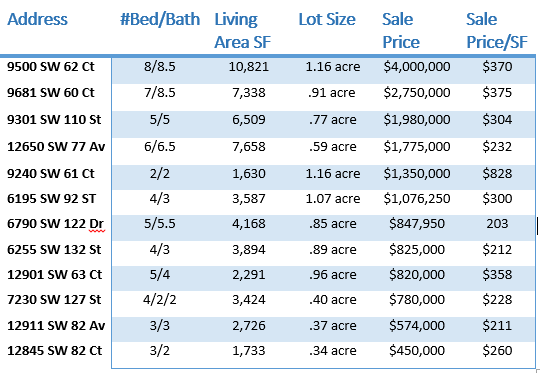 The February 2014 stats are in and the number of single family homes sold in the Village of Pinecrest is identical to February of last year.
Twelve homes sold at an average sale price of $1,435,683 or an average price per square foot (SF) of $323.
When looking at all sales for the month of February, the average sales price per square foot is up 18% from last year.  However, there is one sale that tremendously skews the data.
In the chart you will notice the sale of a 2 bedroom, 2 bath cottage on 1.16 acres of prime Northeast Pinecrest real estate.  This beautiful oak laden lot sold for $1,350,000 or $828 a square foot.  Without this sale, the average sale price per square foot for February is $277, up from $266 per square foot in February, 2013.
I am a Pinecrest luxury residential specialist.  If you would like to schedule a buyer, seller or investor consultation, kindly give me a call at 305-898-1852 or send me a note at Wellins.D@ewm.com.  It would be my pleasure to provide you with a complementary market analysis of you home.