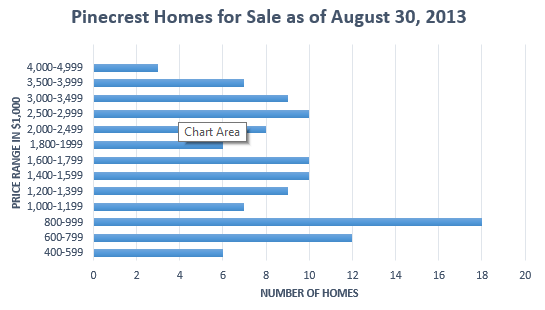 There are 115 single family residential homes for sale in the Village of Pinecrest.
Take a look at he graph which represents price range intervals of $200,000 up to $2,000,000, where the price range interval shifts to $500,000.   Sixty nine percent or 79 of these homes are over $1,000,000.  The most active price range, however, is between $800,000 and $999,000 with 18 homes currently listed.
Highs, Lows and Averages
At the top end, there are two two luxury homes for sale in Pinecrest with an asking price of $4,900,000 or $466 per square foot.  The lowest priced listing is offered at $449,000 or $289 a square foot. The average single family home for sale in Pinecrest is five bedrooms and four baths with 5,136 square feet of living space at an asking price of $1,822,729 or $355 a square foot.
In looking at the data, 40 of these homes for sale are reduced price listings while 11 have actually increased their price from the original list price.
Two listings are foreclosures and four are short sales.
I am a luxury residential specialist in Pinecrest.  If you would like to schedule a buyer or seller meeting, feel free to call me directly at 305-898-1852 or send me a note at Wellins.D@ewm.com.
View Homes for Sale in Pinecrest
Sorry we are experiencing system issues. Please try again.