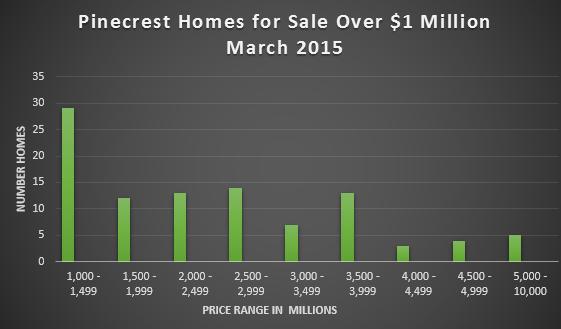 Luxury homes in the Village of Pinecrest are selllng from $1 million to $10 million. One hundred properties are currently listed over $1 million out of 141 total single family homes for sale.
At the low end, with an asking price of $1,060,000 ($261/SF) is a 1967 home with 5 bedroom, 4 baths and 4,056 square feet (SF) of living space.  This home is on 3/4 of an acre in SW Pinecrest.
The top priced home, built in 2013, is offered at $9,800,000 ($624/SF).  Set on 1.25 acres in SE Pinecrest, it has 9 bedrooms, 10 baths and 3 half baths with 15,704 SF under air.
The graph to the right has the breakdown of the number of Pinecrest homes for sale in $500,000 increments.  The highest volume of homes for sale is clearly between $1 – $1.5 million.  The $1.5 – $4 million range has fairly even distribution with numbers falling off over $4 million. In the uber luxury market, between $5 – 10 million there are five homes for sale.
Click this link to view Pinecrest Homes for Sale Under $1 Million.
Click here for my Annual Market Report – 2014 Home Sales in Pinecrest.
I am an estate specialist in the Village of Pinecrest and your best source for news and information on Pinecrest real estate.  If you would like to schedule a buyer, seller or investor meeting, feel free to call or text me at 305-898-1852 or send me a note at Wellins.D@ewm.com.
View Listings in the Village of Pinecrest
Sorry we are experiencing system issues. Please try again.