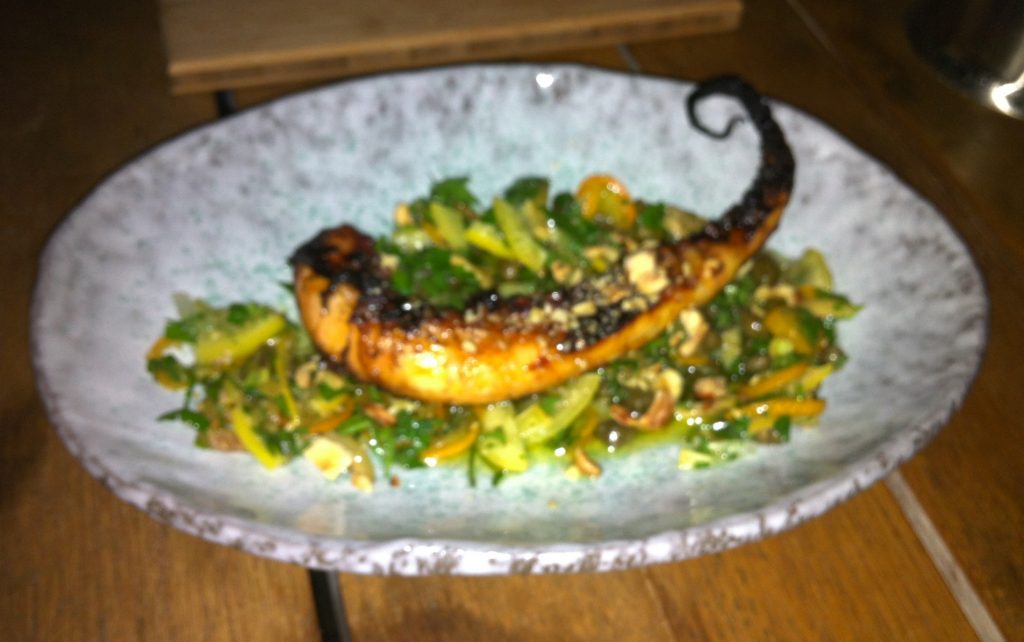 Need I say more than Michael Schwartz.  Like all his other restaurants, this one, in the Raleigh Hotel on South Beach, is classic Michael with a few twists. We dined al fresco by the pool, in a perfectly lovely setting under the stars, with sea breeze, salty air, and little globe lights strung from the sea grape trees – so Miami Beach.  I suppose one could sit inside, but why?  Service was attentive, helpful and pleasant, with the exception of a slow bar.  But we were hunkered down for an evening of dining and were in no hurry whatsoever.
The menu offers small, medium, large and extra large plates aka Michael's Genuine.  We started with martinis and the crispy hominy snack with chili and lime.  Great combo. Dishes were brought out one or two at at time, at a nice pace for a leisurely dining experience.  First up – the heirloom tomatoes with homemade ricotta and basil.  Although Michael is known for his outstanding tomatoes, these were not his best, but the ricotta was wonderful.  One of the surprise favorites of the night was the grilled octopus with crushed hazelnuts, green olives, kumquat, preserved lemon and parsley.  It was cooked perfectly with a slight char and so well complimented by the sweet, tart and salty condiment.  The duck confit with mango, radish and red onion was very tasty, again pairing savory and sweet with a little pumpkin seed crunch.
Next came the large plates.  The pan-roasted Indian spiced pork loin with mango chutney and grilled spring onion had fabulous flavor.  But another delicious surprise was the juicy, crisp spatchcocked chicken with grilled peaches, onion and arugula that simply took roasted chicken to a whole new level.  I mean, who gets excited over chicken, right?  The four pound grilled snapper with salsa picante,  taken off the bone, was phenomenal and served last along with erotic mushrooms (okay, the menu said exotic but that's just wrong) and one of my personal favorites, the braised kale and red chard.
Desserts are creations of Hedy Goldsmith, the Queen of Sweets.  Our fantastic dinner was topped off with a light and unconventional lemon merengue bread pudding and a chocolate pot du creme.  Yes…Go.
Parking $25/$15 with validation
Food
Excellent
Ambiance
Excellent
Service

Excellent

 
Price
Moderately Expensive
If  you would like to read some of my other restaurant reviews, you can check them all out within my RESTAURANT category.  If you have ever been to this restaurant, please share with us your own experience by leaving a comment below.  I would love to know what you thought about it.