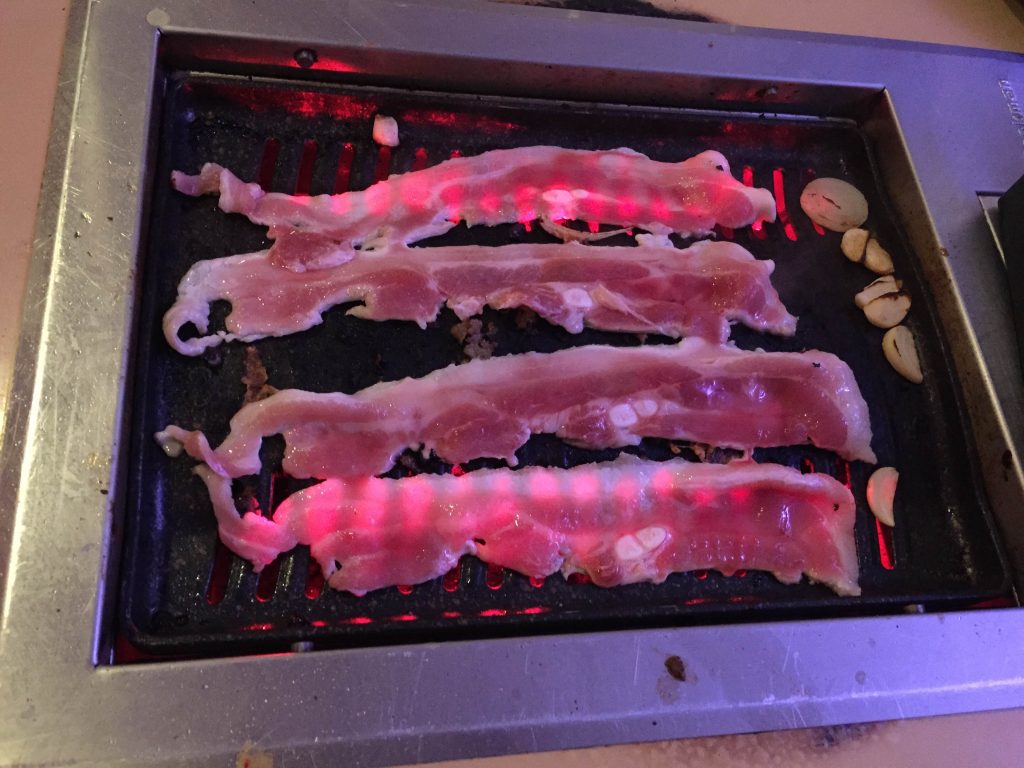 Thinking about what to do after over-dosing on turkey leftovers? Go Korean!  We discovered Sushi Café Shilla Korean BBQ over the Thanksgiving weekend, a family style restaurant with warm service and very good food.
We skipped over the sushi and went straight for the Korean bbq, replete with in-table hibachi style cooking referred to as the "ondol."  Side dishes of marinated mushrooms, potatoes, bean sprouts, tofu and delicious kimchee began our Korean experience, courtesy of the house.  Add to that a bottle of Soju and the evening kicked into high gear.
Soju is a South Korean beverage similar to vodka or whiskey.  It's distilled from rice, wheat, barley, potatoes, sweet potatoes or tapioca and consumed "neat."  Let me tell you, it goes down smooth.
While waiting for the entrees, we devoured a kimchee pancake, possibly the best I've ever had.
Next came the platters of raw beef, beef ribs, shredded pork and pork belly that were served with thick slices of onion and intensely strong garlic.  Once cooked, the meats, vegetables and garlic are wrapped in lettuce leaves and drizzled with salt and pepper sesame oil or a special Korean sauce.  We threw the kimchee in everything.  The meats were very good but not top cuts.  We enjoyed all of them except the pork belly which was very tough and not the expected melt in your mouth fat.  Skip this one dish but do try Shilla.  We are definitely going back.
 If you would like to read some of my other restaurant reviews, you can check them all out within my RESTAURANT category. If you have ever been to this restaurant, please share with us your own experience by leaving a comment below. I would love to know what you thought about it.
| | |
| --- | --- |
| Food | Very Good |
| Ambiance | Strip Mall Casual Asian |
| Service | Friendly & Helpful |
| Price | Reasonable – Affordable |