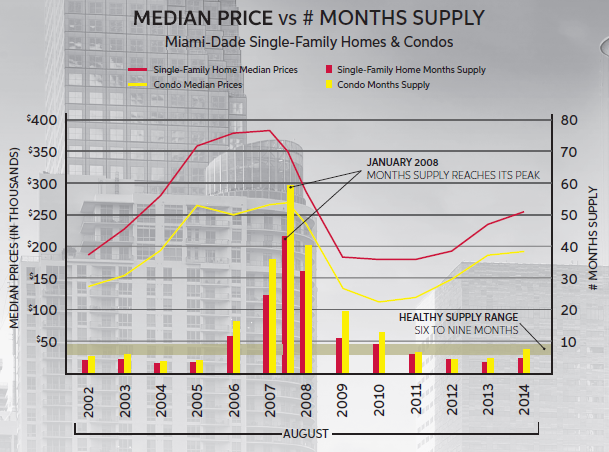 The number of months supply of housing inventory is the most important metric in the real estate business and the key to understanding housing market value trends.
The optimum number of months supply ranges between six and nine months.  Once the number of months supply falls below six months, the value of homes and condos increase. Once the number of months supply rises above nine months, values begin to level out, and eventually begin to fall as the number of months supply continues to increase.
This metric is a quick gauge of any market's health.  The six to nine month range is the desired metric for all price ranges.  The number of months supply can rise to 12-15 months for the million dollar plus market and still be in safe territory.
Check out this 12-year graph of Miami-Dade County's median prices and number of months supply.
As you can see in the graph, our market today is still in a very balanced state.  There are enough buyers and sellers to create an active, healthy market.  However, for the first time in three years, we are beginning to see a rise in our number of months supply.  It's looking better for buyers.
Graph is courtesy of EWM Realty International
I am an estate specialist in Pinecrest, Coral Gables and Coconut Grove.  If you would like to schedule a buyer, seller or investor meeting, please call or text me at 305-898-1852 or send me a note at Wellins.D@ewm.com.