Fewer Units Sold but Prices Up
The number of single family home sales in the Village of Pinecrest was down by 7% in 2017, with 180 units sold for a total sales volume of $257,086,111.
The average home sold for $1,428,256 or an average price of $326 per square foot (SF) up from an average of $316/SF last year.  The median price home sold for $1,085,000 or $317/SF.  We Pinecrest agents like this trend.
So what does it cost to move into Pinecrest?
Much depends on the area. Each year, I analyze Pinecrest home sales by quadrants with SW 112 St. the division between north and south and SW 67 Av. (Ludlam) the boundary line for east and west.
Last year, the best deals were found in the NW section of Pinecrest, with one home selling for $420,000 and in the SW section where the lowest priced home sold for $485,000.  Looking at averages, the SW quadrant had the lowest average sales price of $911,990 or $279/SF.   Keep in mind that SW Pinecrest has a much higher percentage of small lots accounting for this difference in value.
The NE quadrant of Pinecrest had an average home sale price of $2,406,889 or $382/SF. This area always commands the highest price per SF and the highest average and median prices.
The average sales price/SF went up in three of the four quadrants; the NE section was the exception with an average price/SF of $382 in 2016 and 2017.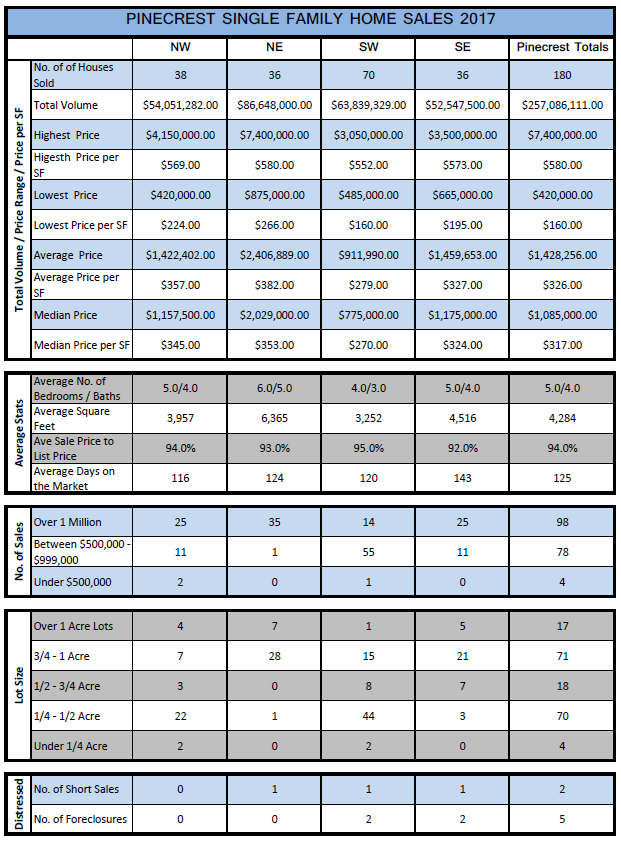 The Lux Market
In the luxury market, the priciest home sold in NE Pinecrest for $7,400,000, a $2 million increase over the most expensive home sold in 2016. The home with the highest sale price/SF fetched $580, up from $573/SF last year.
While the NW section had some of the best deals last year, it also came on strong in the luxury market with the average home sale at $1,422,402, slightly less than the SE section where the average sale was $1,459,653.  In looking at the all important price/SF index however, the NW quad averaged $357/SF over the SE quad at $327/SF.
Some Interesting Facts and Trends
One of the most important indicators of the health of the market is Months of Inventory.  In a healthy market, we like to see about 6 – 9 months of inventory.  Last year, from October through December, there was an average of 11 months of inventory in The Village of Pinecrest.
Another interesting fact … The under $1 million market in Pinecrest represents 20% of the inventory, yet 47% of the sales. The over $1 million market represents 80% of inventory with 53% of sales.
To see the Village of Pinecrest 2016 Market Report, click this link.
I'm an estate specialist in The Village of Pinecrest and your best source for news and information on Pinecrest real estate.  If you'd like to schedule a buyer, seller or investor meeting, please call, text or email me.  305-898-1852  Wellins.D@ewm.com