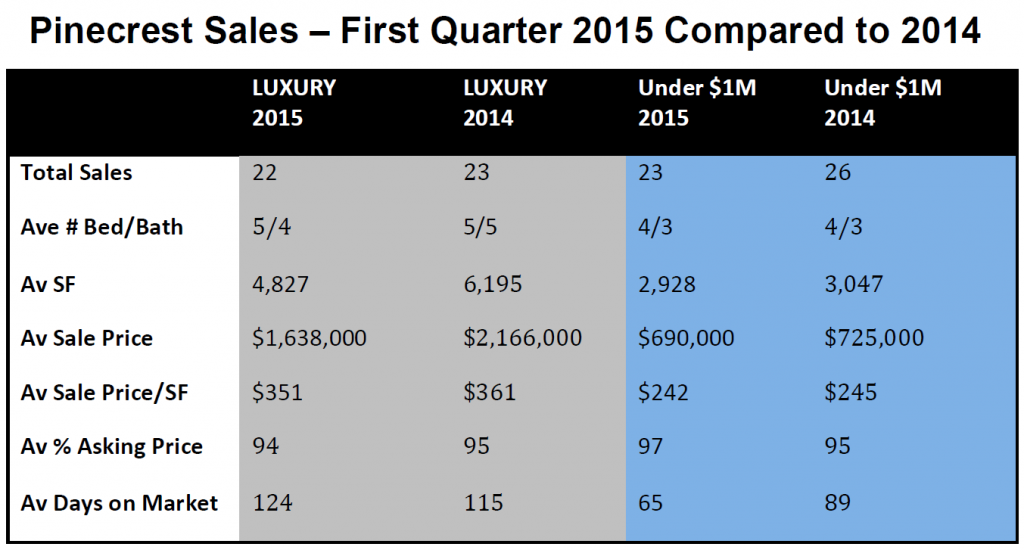 First quarter sales in the Village of Pinecrest has seen a bit of a decline when compared to single family home sales from the same period in 2014.
Forty five homes sold through March 31, 2015, only four less than last year.
Luxury Market
In the luxury market, with 22 sales over $1 million, the hot market continued to be between $1 – 1.4 million.  The biggest drop off was seen at the top end with only one sale between $3 -5 million.
The luxury market realized a 24% decrease in the average sale price of homes in the first quarter, although the average sale price per square foot was only off by $10 or 3%.  This is partly a reflection in the size of homes sold, which averaged 1,300 square feet less than the previous year's first quarter.
Luxury properties tend to take longer to sell.  Notice the difference in the average days on market of homes over $1 million – almost twice as long as the homes under $1 million in 2015.
Sales Under $1 Million
There were 23 sales under $1 million, the hot markets evenly distributed between sales of $500,000 to $900,000.  Pinecrest sales under $1 million have not declined as much as the luxury market, only down by an average of $35,000 or 5% over 2014 first quarter values.
Notice that under a million, the 2015 and 2014 average square feet values are very close.
I am an estate specialist in the Village of Pinecrest and your best source for news and information on Pinecrest real estate.  Feel free to text, call or email me to schedule a buyer, seller or investor meeting or for a complementary market analysis of your home.  305-898-1852   Wellins.D@ewm.com