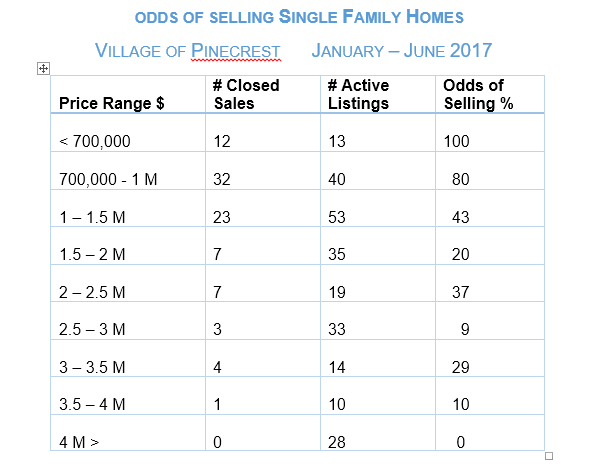 If you're thinking of selling your home in Pinecrest, you're probably wondering what the likelihood of success will be.  There are some interesting trends.
I looked at the data from the past six months to see what the odds of selling your home in Pinecrest are.  Clearly, if you are priced under $1 million, and have not overvalued your home, it will sell. The average home is taking about four months to sell in this price range and is selling at 95% sale price to list price.
As the sales price increases, the odds of selling decreases…but this is not surprising.  There are always fewer buyers in the higher price ranges.  What you will notice in the analysis are the low odds in the ranges between $1.5 – 2 million ( 20%), $2.5 – $3 million (9%) and $3.5 – $4 million (10%).   Tough market!
What is most astounding is the uber luxury market with homes listed from $4 million up.  NO SALES in the last six months. Where are the buyers?  Well, obviously not in Pinecrest.  Twenty eight homes have been on the market an average of six months thus far.  Prices will need to drop to capture these buyers.
Of the 11 homes priced  between $3.5 and $4 million, only one sold.  It was on the market just shy of a year before selling.  On the average, homes in this price range have been on the market eight months.
More About Pricing
Out of 243 homes for sale in the Village of Pinecrest, 88 closed in the past six months.  Of these sales, 61% of home sellers reduced their listing price at lease once to find the right buyer.  This means only 39% priced their home correctly out the gate.
Sales Price to List Price Ratios (SP/LP$)
Statistics in the percent sale price to list price do not take price reduction into consideration.  This ratio is based on the sale price to the most current list price – so its a bit deceiving. The average home in Pinecrest sold at 94% SP/LP.   Homes typically sell within 10% of market value so keep this in mind when deciding on a price point for your listing.
Click this link to view Pinecrest Sales 2016.
Click here to see Current Pinecrest Homes For Sale
I'm an estate specialist in The Village of Pinecrest and your best source for news and information on Pinecrest real estate.  If you would like to schedule a buyer, seller or investor meeting, please call, text or email me.  305-898-1852  Wellins.D@ewm.com