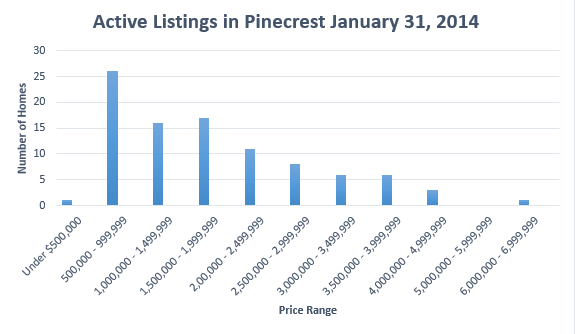 As of January 31, 2014, there are 95 single family homes for sale in The Village of Pinecrest.
The hot price ranges are between $1 – 2 million with 33 active listings and $500,000 – $999,999 with 26 active listings.
In the ultra luxury market, 19 homes are for sale between $2 – 3 million, 12 homes are for sale between $3 – 4 million and four homes are for sale above $4 million.  Only 1 home is for sale under $500,000.
In January, Pinecrest had 25 new homes come on the market listed between $465,000 ($ 200/SF) and $6,199,000 ($500/SF).  The average home for sale has 5 bedrooms, 4 baths and 5,066 square feet of living space and is offered at an average asking price of $1,695,196 or $316/SF.
I am a luxury residential specialist in The Village of Pinecrest.  If you would like to schedule a buyer, seller or investor meeting, kindly give me a call at 305-898-1852 or send me a note at Wellins.D@ewm.com.