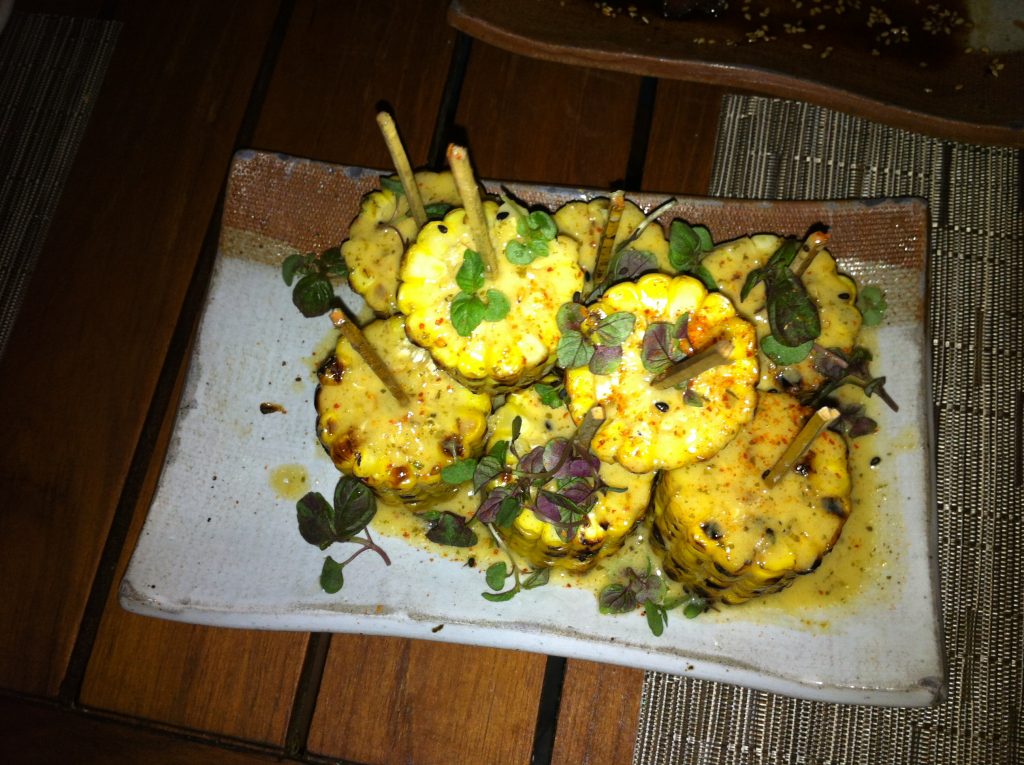 I loved Zuma three three years ago when it first opened and it continues to impress with quality ingredients, simple presentations and delicious food served Izakaya style.  In case you are unfamiliar, Izakaya refers to an informal dining style where dishes are intended to be shared.  Food is continuously and steadily brought to the table with no particular regard to protocol or order.
We sat on the terrace overlooking the Miami River on a beautiful balmy Miami evening.  The terrace, usually the quiet spot in an otherwise very loud restaurant, was livened up by music from the burger fest across the river.
The Food
IKA NO KARI AGE – Crispy Fried Squid with Green Chili and Lime, KUE NO TEMPURA – Grouper with Fresh Chili Dashi and Onions and fabulous Creamed Spinach.
Then from the robata grill … BUTA-BARA YUZU MISO – Kurobuta Pork Belly Skewer with Yazu Mustard Miso,  YAKI TOUMORO KOSHI – Sweet Corn with Shiso Butter and perfectly cooked Zucchini Skewer.
Do try the devine Signature Dish  GHUHIRE SUMIBIYAKI KARAMI SAUCE ZUKE – Spicy Beef Tenderloin with Sesame, Red Chili and Sweet Soy.
Desserts – YUZU TROPICAL STRAWBERRY SORBET and ZUMA SPECIAL CHOCOLATE WITH VANILLA BEAN ICE CREAM
Sake Bar
Couldn't find one to our taste.  We ordered a dry wine from the Sake Sommelier and were offered a taste of a very sweet wine.  We tried another but it, too, was quite fruity with sweet tones.
Service
Service was excellent with one notable exception.  The reception staff that greet and seat, five of them to be exact, were incompetent.  It was like watching the Three Stooges operate a computer, trying to coordinate the seating of guests.  Only in this case, it was the Five Stooges. Not much more need be said of this group of buffoons.
Zuma is located on the ground floor of the Epic Hotel and Residences  270 Biscayne Blvd. Way    Reservations a must (305) 577-0277
To see listings of condos for sale in the Epic Hotel, click here.
| | |
| --- | --- |
| Food | Excellent |
| Ambiance | Excellent |
| Service | Excellent  |
| Price | Expensive |
If  you would like to read some of my other restaurant reviews, you can check them all out within my RESTAURANT category.  If you have ever been to this restaurant, please share with us your own experience by leaving a comment below.  I would love to know what you thought about it.