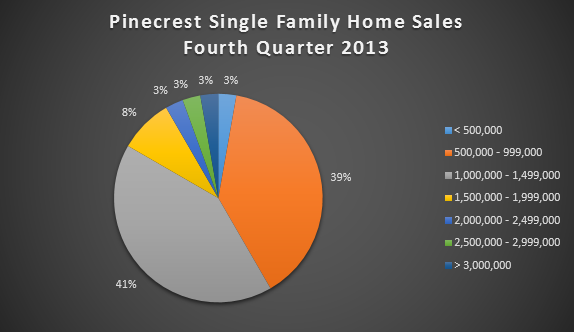 In the Village of Pinecrest, 36 single family homes sold in the fourth quarter of the year (October 1 – December 31, 2013) with a total sales volume of $42,673,250.  This is a dramatic drop in sales from the third quarter of this year, where 72 homes closed.
Of the 36 closed sales, 15 homes were under $1,000,000 and 21 homes were over $1,000,000.
The pie chart depicts sales in increments of $500,000. Thirty nine percent of homes sold between $500,000 and $999,000, 41 percent between $1,000,000 and $1,499,000 and 8 percent between $1,500,000 and $1,999,000. The hottest price ranges for the 4th quarter were split between $1,000,000 – $1,999,000 and $1,200,000 – $1,399,000 , each with six sales.
The High
In the luxury market, the most expensive estate sold for $3,175,000 or $421 per square foot.
The Low
The least expensive home closed at $475,000 or $200 per square foot.
The Averages
The average Pinecrest residence sold for $1,185,377 or $253 per square foot.  Homes sold at an average of 94% of sale price to list price and were on the market an average of 80 days.
The Distressed
The fourth quarter saw a slight increase in distressed sales with four short sales and two foreclosures.
Click this link for my Pinecrest Third Quarter Report.
I am a Pinecrest residential luxury specialist.  If you would like to schedule a buyer or seller meeting, feel free to call me directly at 305-898-1852 or drop me a note at Wellins.D@ewm.com.