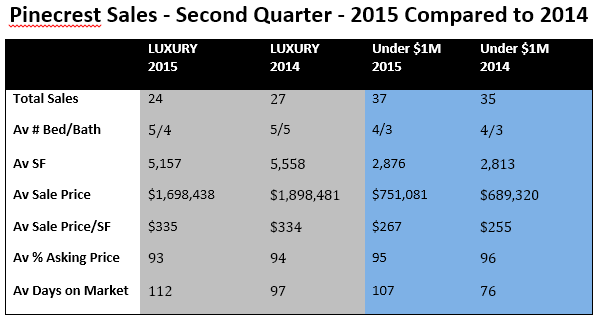 Single-family luxury home sales in the Village of Pinecrest show stability when comparing 21015 and 2014 second quarter sales.  In the under $1 million market, prices have increased.  Take a look at the chart for comparisons.
Luxury Market:  Sales Over $1 Million
The luxury market had three fewer sales this quarter over the same period last year.  The average sale price was $200,000 less this quarter because the homes that sold were smaller by 400 square feet.  The average sale price per square foot is consistent – $335 this year compared to $334 last year in the second quarter.  
Sales Under $1 Million
Pinecrest single family  home sales under $1 million have seen a $62,000  increase in the average sale price in the second quarter this year over the same period in 2014.  The price per square foot is also up 5 percent or $12.  The average square feet of homes sold has only increased by 2 percent or 63 square feet over last year. 
To see the breakdown of sale prices click on this link. Pinecrest Home Sales: Second Quarter Hot Markets
I am an estate specialist in the Village of Pinecrest and your best source for news and information on Pinecrest real estate.  If you would like to schedule a buyer, seller or investor meeting, feel free to call, text or email me.  I'd love to help you with any of your real estate needs.   305-898-1852   Wellins.D@ewm.com