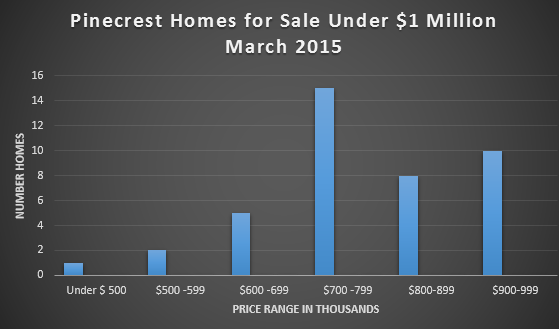 It's getting to be slim pickings for single family homes under $1 million in Pinecrest.  As of today, 141 homes are on the market, only 41 of them under $1 million.
The breakdown is in the chart on the right.  The $700,000 – $799,000 price range is the hottest market under $1 million with 15 homes for sale.
Almost all of these homes are west of 72nd Ave and south of 104 St. They average 3-4 bedrooms, 2,000 -3,000 square feet and are on lots from 1/4 to 1/2 acre.  Four of these homes, however, are on 3/4 acre lots.
Click this link to see Pinecrest Homes for Sale Over $1 Million
I am an estate specialist in the Village of Pinecrest and your best source for news and information on Pinecrest real estate.  If you would like to schedule a buyer, seller or investor meeting, feel free to text or call me at 305-898-1852 or send a note to Wellins.D@ewm.com.
View Listings In The Village of Pinecrest
Sorry we are experiencing system issues. Please try again.